Float Tank Plans
Add Salt Water
Cost for this step: $545
Cost so far: $2,085
800 lbs Epsom Salt from Univar USA (delivered)
Note: I'm in a business that already buys chemical supply so this was a special rate. Do what you can to get close to this price.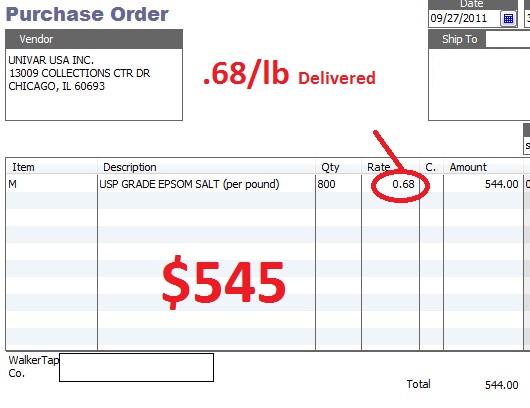 GOOD LUCK! SALT IS SO DAMN EXPENSIVE
UPDATE 02/28/2012 – This is the cheapest salt I can find on Amazon. If you look locally you could probably do better.   About $1/lb
Ultra Epsom Salt – 25 lbs. (medium), Bath Salts – Unscented Bulk
800 lbs of Epsom Salt USP Grade. (Magnesium Sulfate Heptahydrate USP)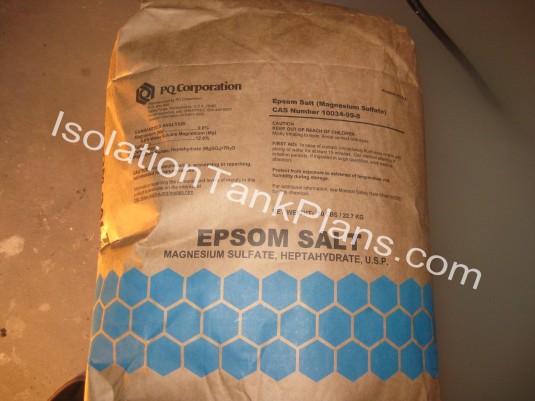 Ok you're so close to floating. The hardest part of this step is finding that salt at a discount. It's SO expensive. Your best odds will be buying wholesale using a company account. Look for chemical suppliers in your area and get pricing for 800 lbs. Shop around.
1. Fist things first, fill your tank with water and salt.  I used my hose from outside because I read that using water from a water heater can add unwanted sediment.
NOTE: Add your salt while you're filling because the salt really raises the water level. Also, save a bag of salt for the future. You'll lose about an inch every three months, so when you add more water you can add a cup of salt.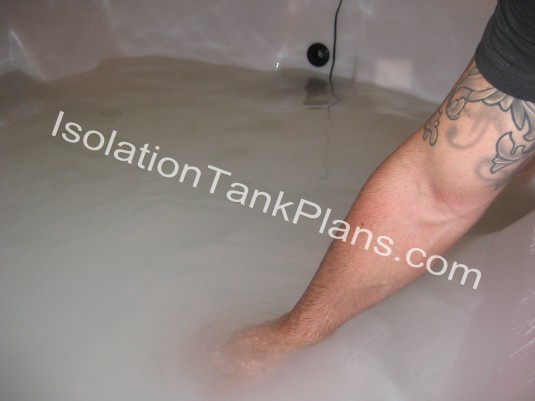 The picture above is while I'm filling… See the intake hole? Get a couple inches above that at least. If it's to close to the hole it will draw air in and it's not good on your pump or parts.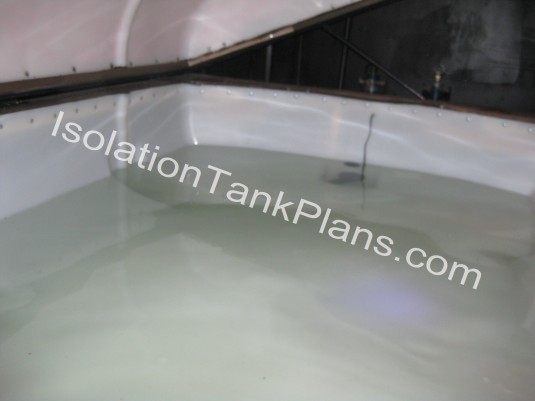 2. Check for leaks! I didn't have any at the time so I was lucky. If you do, GOOD LUCK!
3. Time to mix in the salt. You'll have PILES of salt at the bottom. It will seem like it won't mix in but it will. I just got in the tank and started mixing. It took about a half an hour.
NOTE: The water will be way cold from the salt. (chemical reaction)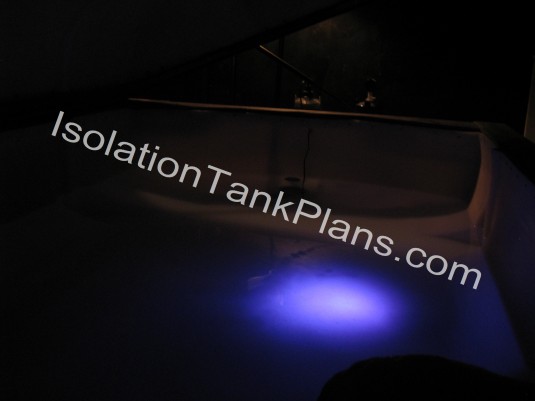 4. Fire it up! You should have everything plugged into the power strip, flip it on. If you have leaks in the lines just close the ball valves and get to work.
NOTICE: YOUR HEATER WILL NOT BE ABLE TO HEAT THE WATER UNTIL THE TANK IS INSULATED, SO DON'T EXPECT IT TO. NOTHING IS BROKEN I PROMISE.
Here's the video of flipping mine on for the first time.
I would run your tank for at least a day to make sure no leaks develop.
Done! On to the insulation and covering.