Float Tank Plans
Room Prep
Cost for this step: $130
Cost so far: $2,460
I PUMP PURE OXYGEN INTO MY TANK WITH AN OXYGEN CONDENSER MACHINE FOR AN ENHANCED EXPERIENCE. I DESIGNED THE TANK TO VENTILATE LIKE A CHIMNEY OUT THE TWO TOP HOLES. HOT AIR SHOULD RISE OUT AND DRAW IN FRESH AIR FROM THE SEAM. HOWEVER,  IT MADE ME VERY NERVOUS IN THE BEGINNING AND I BOUGHT ONE OF THESE:
I used my tank for about an hour and tested my blood oxygen, it was fine. This is all the info I have on oxygen level safety. So please do your own research. Using these plans is at your own risk.
1. One of the first things I noticed was the air temp didn't match the water temp when I'd hop in. They've got to be the same for the effect of no gravity and no feeling. It's very important I would say to get the room to about 79 degrees. Personally I like my water about 96 degrees but I've heard anywhere from 93-99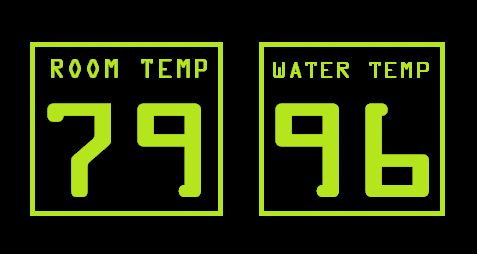 I bought this silent Lasko Silent Room Heater Model # 5620
.. works great!

2. You've probably already gotten a handle, but if not be sure and pick one up. Use extra long screws to sink into the 2×4.
TIP: When you're in the tank, open it with your feet, it's easy. Lifting with arms is DAMN hard.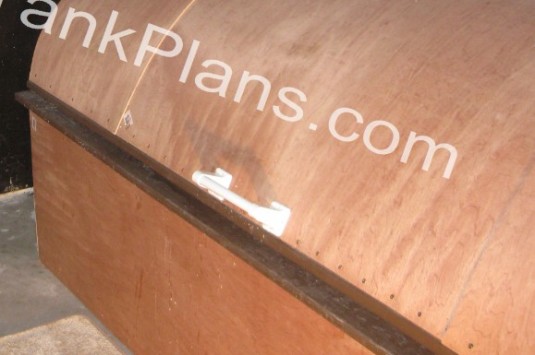 3.  Get some goggles! I had to learn the hard way that no matter what you do salt will still get in your eyes, and it burns like a mother! I didn't want goggles sticking into my eyes and messing up my relaxing time, so I found these. They are seriously so comfortable! Just put them on loose as possible. You'll forget they are there.
Aqua Sphere Vista Swim Mask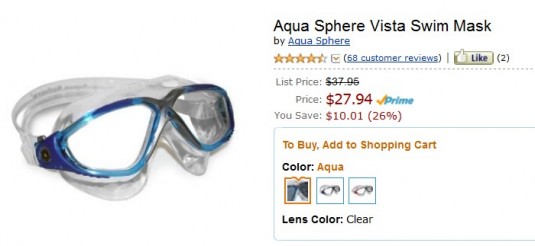 3. Make the room PITCH black. When light is in the room it shines through that vent hole. It's nice to be able to open your eyes and still see pitch black, it adds to the effect. So either figure out another vent method or get to covering your windows in foil.
Aluminum Foil – 12″x20′
Also, you can buy foil tape and it makes it easy for getting rid of all the light seams.
3M 3311-50 Scotch Foil Tape, 2-Inch-by-50-Yard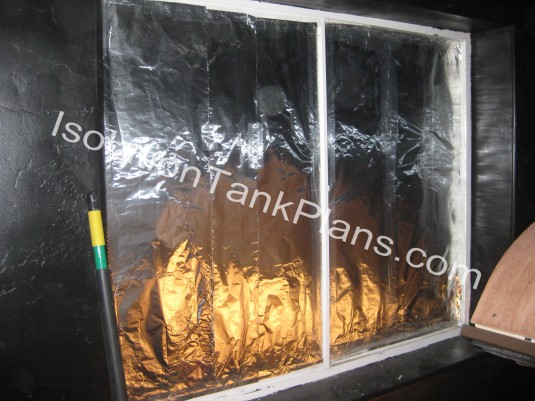 4.   Get a table for your things, and some hangers for your towel.  Whatever you want, it's your float room.
Here's the rack I bought, works good: Neu Home Shelf with Towel Rack
and the towel hooks I got: Franklin Brass 125861 Crestfield Double Robe Hook, Polished Chrome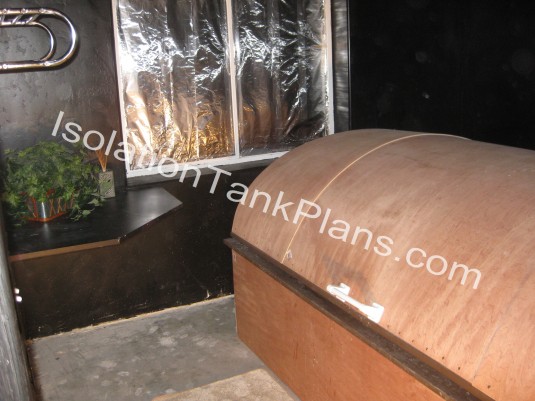 I also painted my walls and ceiling black, it helps a lot for having a dark room.
June 2012 UPDATE>>> I would paint everything WHITE! Salt residue is white and everywhere, and doesn't look good on black. I would focus on getting the room pitch black (no light) then just paint everything in white tones.
You are ready to start figuring out your own float preferences. Keep me posted on your projects and results.
HAPPY FLOATING!